I always assumed that everyone bought everything on eBay on a Sunday, as they had nothing better to do. Realising this was utterly unfounded, I decided to do a little (not hugely scientific) research. I gathered the average selling price for the last 200 Samsung TVs to sell on eBay for various sizes. Here's a chart of the results.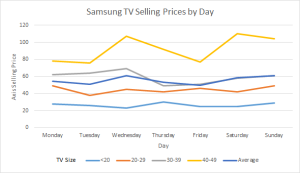 As  you can see, it doesn't seem to make any difference what day the item finishes.  More expensive items seem to have more volatility though.  Also, larger TVs are more expensive.  

The reason I chose only Samsung was to limit the number of results, in an attempt to gather data over a longer time period (without expending to much effort).  I used this bookmarklet to gather the data.